UNIFICATION VOTER INFORMATION

Voting is now closed.
Confirm Voting Representative
Make sure your voting representative is listed as the primary contact with SCAA so that they receive important voting materials. Need help? Contact membership@scaa.org
Get Informed
The voter information page will be regularly updated as new information is released. Bookmark this page and check back often!
Get your Questions Answered
If you have any questions that cannot be answered on this page, we're here to help! Call us at 562-624-4100 or email your question to feedback@scaa.org
Webinars/Meetings . . .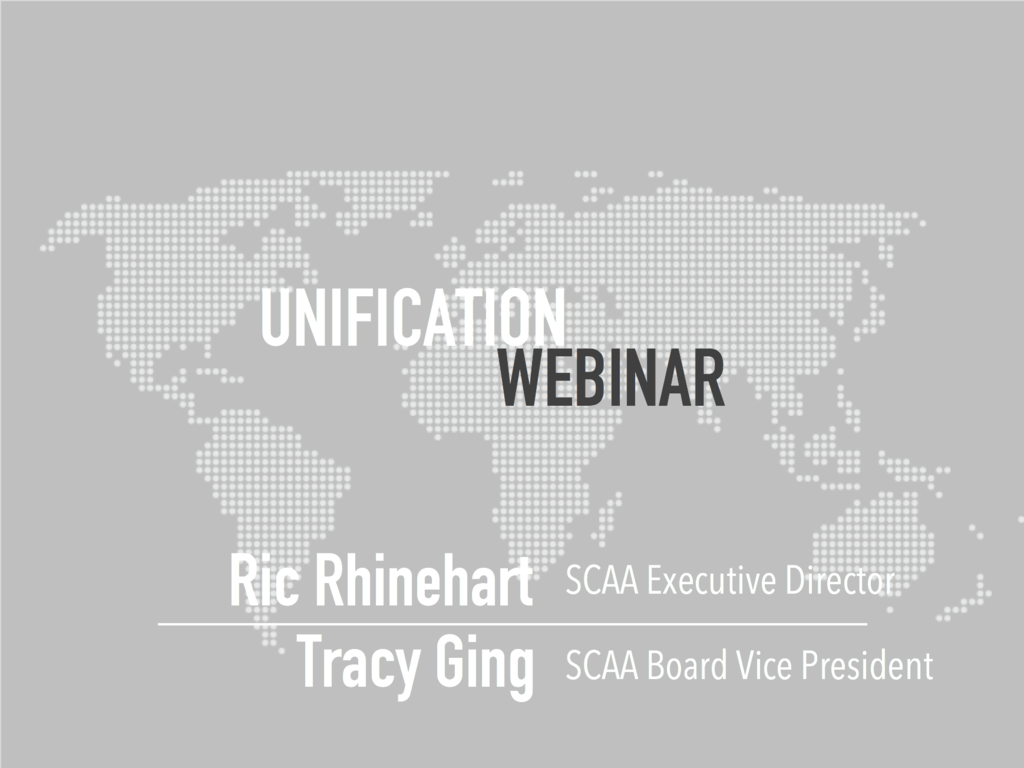 We will be hosting live one-hour unification webinar meetings that will be repeated regularly over the coming weeks, as well as in person meetings. Each session's presentation contains information about the path leading to now and what has been proposed for your approval. The balance of remaining time will be open for Q&A. All members are encouraged to participate in an informational session:

Past Webinars:
• June 8th | 12:00pm PDT | Watch Video
• June 15th | 6:00pm PDT | Watch Video
• June 22nd | 8:00am PDT | In Spanish / En Español | Watch Video
• June 29th | 4:00pm PDT | Watch Video
• July 6th | 10:00am PDT | Watch Video
• July 13th | 10:00am PDT | In Spanish / En Español | Watch Video
• July 20th | 3:00pm PDT | Watch Video
• July 27th | 8:00am PDT | Watch Video
• August 3rd | 10:00am PDT | Watch Video

Member Unification Forums:
• June 30th | 11:00am PDT l SCAA HQ | 117 W 4th Street, Suite 300, Santa Ana, CA
• July 12th | 2:00pm PDT | ACE Lab | 2250 NW 22nd Ave, Suite 612, Portland, OR
• July 15th | 2:00pm CDT | Metropolis Coffee | 3057 N Rockwell St, Bldg 1 R, Chicago, IL
• July 22nd | 2:00pm EDT | The Loft @ Irving Farm Coffee Roasters | 151 W 19th St., 6th Floor, New York, NY
• July 26th | 11:00am CDT | Workbench Coffee Labs | 3160 Terrace St, Kansas City, MO
Video . . .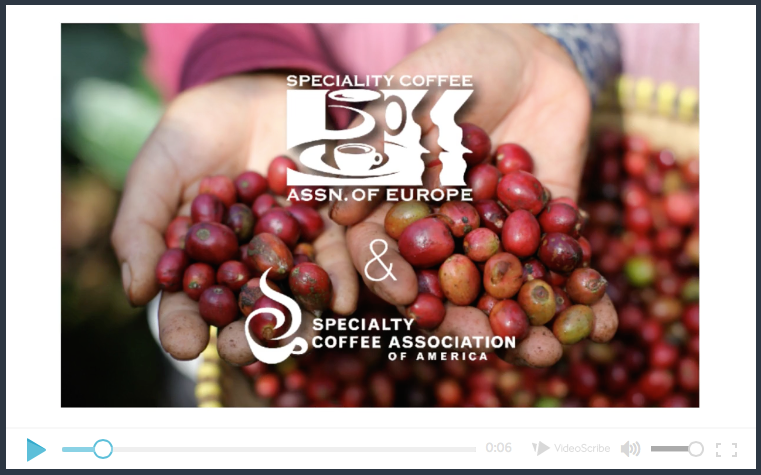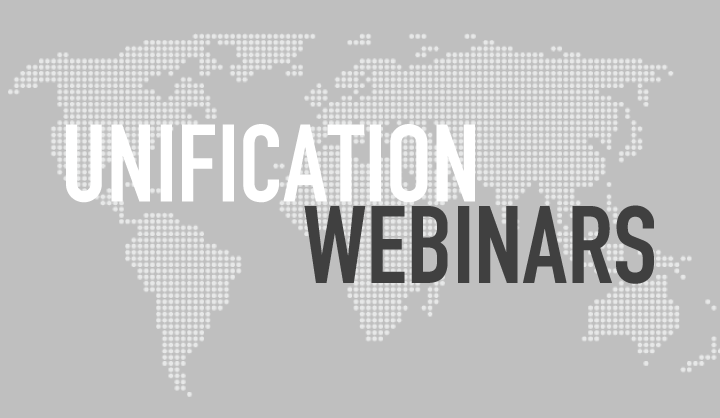 • June 8, 2016 Webinar
• June 15, 2016 Webinar
• June 22, 2016 (In Spanish / En Español)
• June 29, 2016
• July 6, 2016
• July 13, 2016 (In Spanish / En Español)
• July 27th
• August 3rd
Timeline . . .


This timeline is meant to capture the history of this exploration, and will include links and updates to all communications and information published in the process. It's a part of a commitment to transparency and discussion.
SCAE Vote Outcome . . .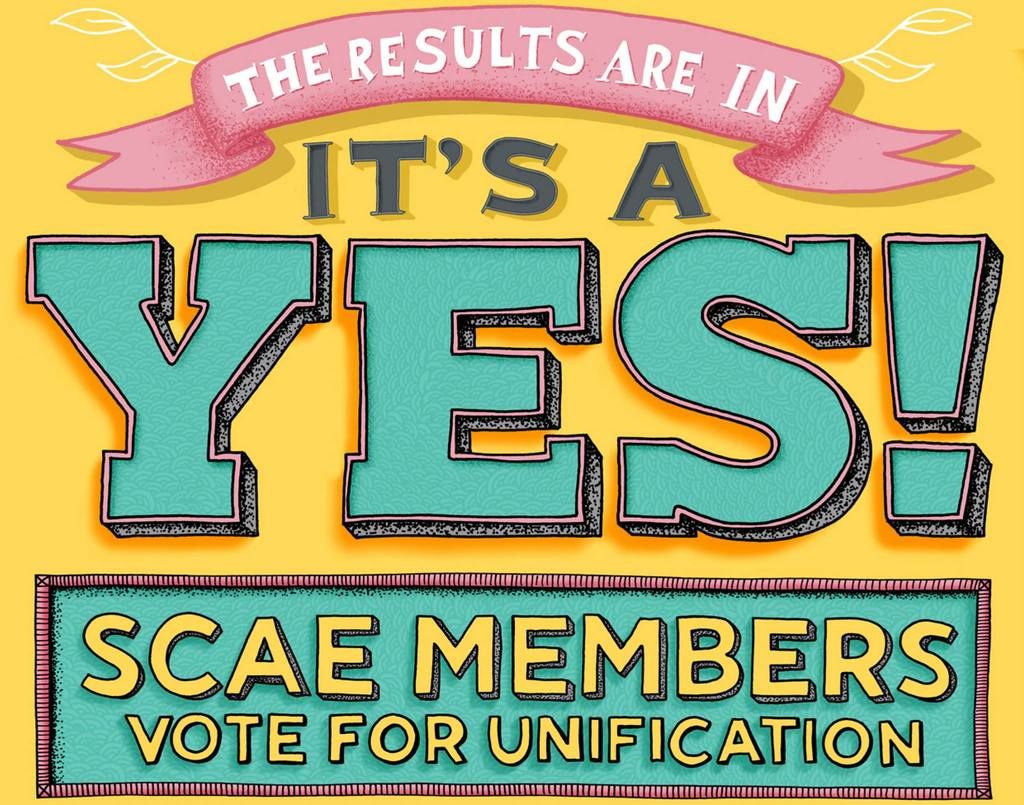 SCAE members voted in favor of Unification. Click the image below to view results of the SCAE vote: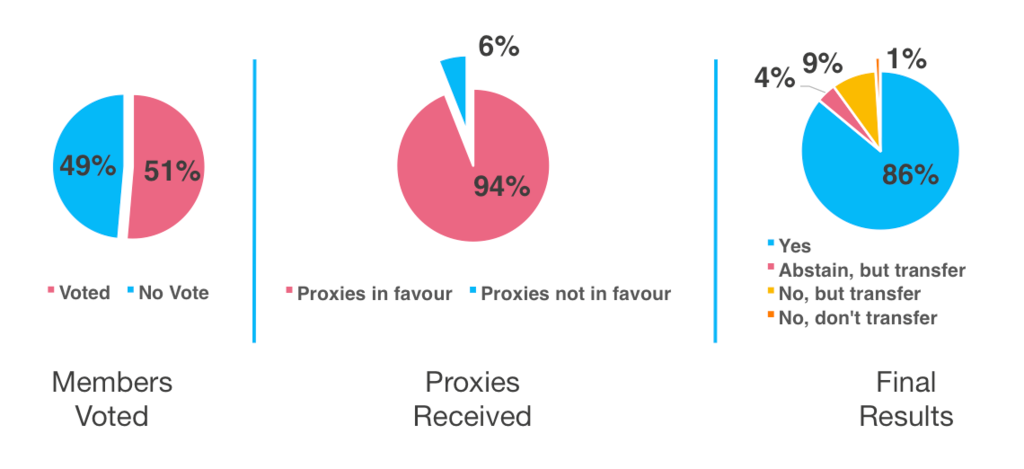 Perspectives . . .
• SCAA Board Voices: Thoughts On Unification
• A Note From Ric Rhinehart
• Roasters Guild Voices: Thoughts On Unification
• Sustainability Voices: Thoughts On Unification
• My Perspective: Ted Lingle
• Barista Guild Voices: Thoughts On Unification
• A Perspective From Drewry Pearson, SCAE Past President
• On Unification—The Path That Led Us Here (Tracy Ging)
• A Sustainability Perspective On The Benefits Of Unification (Chad Trewick)
• SCAA & SCAE Unification | SCAA Member Sentiment Report
• Cooperation And Collaboration In The Realm Of Coffee Education (Andrew Hetzel)
• A Message On Collaboration In Coffee From SCAA Executive Director Ric Rhinehart
Supporting Documents . . .
Financial Pro Forma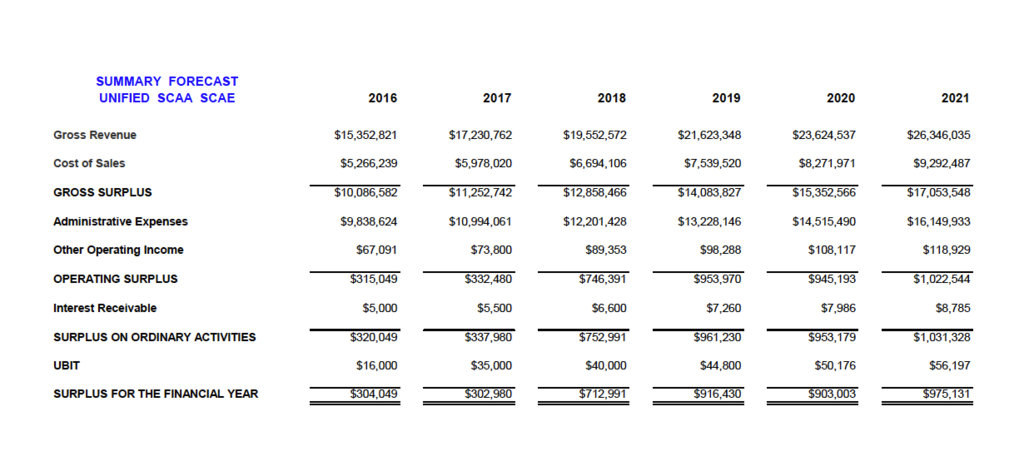 A detailed business plan, detailed pro forma, and preliminary agreement are available to any SCAA member upon request to feedback@scaa.org.
What a YES Vote Means . . .
A YES vote means:
Five new member value centers – an Education Center, Events Center, Research Center, Sustainability Center, and Advocacy/Leadership Center – will be established. The mission of these centers is to deliver enhanced benefits – local events, cutting-edge scientific research, and valuable education – to the members of our community. Expanded member services – including longer service hours and global support – will be available to our members. A 'one member, one vote' benefit will be implemented, meaning every individual member of the new organization will enjoy voting rights, including Guild members. Education programs become increasingly compatible, allowing for more advancement opportunities and enhanced international recognition for graduates. A larger commitment to scientific research will inform our activities, and we will engage our members in local events which are connected in a global network.

To support the work of these centers, a Global Operations Center will be established in the UK, and the North American office will remain active. SCAE's assets and membership join SCAA's tax exempt organization, resulting in a single global nonprofit benefiting the needs of our over 8,000 members.
What a NO Vote Means . . .
A NO vote means: The SCAA and SCAE remain two separate entities. They continue to compete in global markets, providing differing and sometimes overlapping resources, standards, programs and products. Members wanting access to both associations' resources will need to join and pay membership dues to both organizations. SCAA Bylaws remain unchanged and individual members and Guild members would not enjoy voting privileges.
Voting Guidelines . . .
Which membership categories can vote?
According to existing SCAA bylaws, voting membership categories are: Producers/Exporters, Importers/Green Brokers; Roaster Wholesalers; Roaster Retailers; Retailers; and Allied Services. Individual and Associate memberships are nonvoting memberships. Roasters Guild and Barista Guild memberships are nonvoting, though these individual members may be employed by a voting member company.
Who can cast the vote for their company?
An election notification email will be sent to the primary contact listed in the SCAA membership software. The message will include the company's member number and a link to the on-line ballot. Member companies themselves elect who casts a vote on their behalf. There is one vote per member company.

SCAA is required to send the eligible member voting contact list to Survey and Ballot systems on June 17th. All member companies who are eligible to vote and want to update their primary contact must do so in their SCAA profile no later than June 16th at midnight PDT to be included.
Get out the Vote!
We hope all SCAA members will chose to participate in the vote and you can help by encouraging others. Once you've voted, be sure to let others in our community know by using #Ivoted #SCAA #Unification social media hashtags.
Ways to Vote . . .
How do I have my ballot resent to me if I didn't receive it?
If you feel you did not receive your electronic ballot, click here to submit the email of your company's primary contact with SCAA to have your ballot resent.
How does a member cast their vote?
On July 5th, 2016, the primary contact from each voting member company will receive a unique link to a secure online ballot by email. The message recipient may click on the link provided and follow instructions to cast their ballot.
Will paper ballots be sent?
Members who have opted out of receiving electronic communications from SCAA will be automatically sent a paper ballot by mail with instructions for voting. Similarly, if the email message sent to the primary contact is undeliverable, a paper ballot will be mailed to the member company's physical address on file. Paper ballots can be mailed to any other member by request to feedback@scaa.org.
Who is conducting the voting process?
An independent voting administration company, Survey and Ballot Systems, will conduct the unification voting process, and support will be available from them during the election. Only they will have access to results until voting is completed.